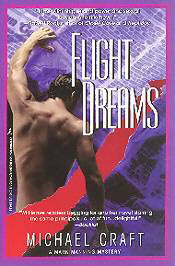 First in the series of Mark Manning mysteries
by Michael Craft


Hardcover published June 1997
Trade paperback published June 1998
Kensington Books, New York
230 pages, ISBN 1-57566-174-8


A woman vanishes without a trace. A man risks his career—and his life—to find her. His search, however, takes wildly unexpected turns, and what he finds, to his dismay, is love with another man.


Meet Mark Manning, an investigative reporter for the Chicago Journal. For seven years, he has covered the story of Helena Carter, a wealthy North Shore widow who disappeared and is presumed dead—by everyone but Manning. Under an ultimatum from his publisher, Manning must find the missing woman within ninety days, when she will be declared legally dead, or her fortune will be divided among her undeserving heirs.

Peopled by a memorable cast of characters, Flight Dreams is a richly textured novel that resounds with emotional truth. More than a tightly plotted mystery, even more than the moving chronicle of one man's coming-out, it is a tale of dreams we all share—dreams that transcend our ordinary lives—dreams than can truly take flight.


Author's comments

Flight Dreams is a story that I carried around with me for quite a few years before it saw the light of print. Way back when, while I was working at the Chicago Tribune as an art director for the paper's features department, the Helen Brach story hit the news. She was heiress to the Brach Candy dynasty, and she disappeared from her Northbrook estate without a trace; this was probably 20 years ago, and as far as I know, the mystery was never fully resolved. Clearly, this provided the germ of inspiration that would develop into this novel.

My first version of the story, titled Acts of Faith, was completed in the early 1980s with a manuscript that ran nearly 600 pages long. I couldn't interest anyone in publishing it (at least partly, I'm convinced, because the story's gay content was deemed a tad adventurous back then), so I refocused my energies on a project of smaller scope. What emerged was Rehearsing, my first published novel. This gave me the confidence to tackle the heiress story again, which was rewritten from scratch (not merely revised), using half as many words.

Many readers have asked if Manning is a representation of myself. Don't I wish! Actually, he's something of a heroic character—at least to my mind—embodying traits that I aspire to but have not fully achieved.


Critical acclaim

"Add Michael Craft to the illustrious pantheon of gay and lesbian mystery writers . . . Flight Dreams is a coming-out story as much as a mystery, and it succeeds superbly on both levels. The book fairly crackles with erotic suspense."
— Tavo Amador, Bay Area Reporter (San Francisco)


"Michael Craft's debut novel is a beautiful, evocative and at times erotic literary work . . . a delightful change from the usual run-of-the-mill mystery. This reviewer fervently hopes that Mr. Craft has further tales about Manning to spin."
— Harriet Klausner, mystery critic, writing on the Internet


"Will leave readers begging for another novel starring the same principals . . . Delightful."
— Charles Harmon, Booklist (Chicago)


"An enlightened, rational, cat-loving, reluctantly gay hero battles phony TV healers, murderous New Age psychics, and benighted Tridentine Catholics. Imagine the fodder this debut, and the promised series, will provide for the foes of liberal humanism."
— Kirkus Reviews (New York)


"It's a great book and a quick read from a gifted author."
— David McGrath, WLTQ-FM (ABC, Milwaukee)


"A strong premise, nicely carried out, with easy prose and well-drawn characters mark this first in a series."
— Library Journal (New York)


"Flight Dreams hums with intrigue and power and sexual tension and, paradoxically, grace. It's a terrific new novel by a promising new voice."
— Robert Rodi, novelist (Chicago)


"Within the framework of the mystery genre, Michael Craft has written a coming-out tale of which even Ellen—both real person and fictional bookseller—could be proud."
— Glenn Bishop, The Wisconsin Light (Milwaukee)


"In a well-plotted puzzle, Craft captures us from the first page."
— Susan Rose, Snooper Reviews (Belleair Bluffs, Florida)


"Flight Dreams is provocative, thrilling and an exciting read. I look forward to Craft and Manning's next flight."
— Tina Metallo, Action Magazine (Kenosha, Wisconsin)



Foreign edition



Flight Dreams was published in German as Bei Nachruf Mord ("Murder by Obituary") in October 2000 by Bruno Gmünder Verlag, Berlin. To see details of the translated edition on Amazon's German website, click here.






Three-in-One edition
In March 2002, the first three Mark Manning novels—Flight Dreams, Eye Contact, and Body Language—were published as an 880-page omnibus edition in the Triangle Classics series from InsightOut Books. The text pages of the trilogy, priced at $14.99, are exact photomechanical reproductions from the original editions. InsightOut Books, associated with Book of the Month Club, can be visited at www.insightoutbooks.com.