Second in the series of Claire Gray mysteries by Michael Craft

Hardcover published February 2003
St. Martin's Press, New York
304 pages, ISBN 0-312-30501-X

The show must go on. But director Claire Gray has murder on her mind.

After a long, successful career on Broadway, Claire moved cross-country to head the theater department of the newly built Desert Arts College near Palm Springs, California. Imagine Claire's surprise—after some thirty years of a largely peaceful existence in Manhattan—when her new life is darkened by a second murder investigation within mere months of her move.

Stewart Chaffee, an aging, eccentric art collector and society decorator, has agreed to lend Claire an antique Austrian clock that will provide the finishing touch for the stage setting of her first production at the college. When Claire arrives as scheduled to pick up the rare timepiece, she finds Chaffee dead, victim of what appears to be a gruesome kitchen accident.

Detective Larry Knoll quickly determines that the mishap was no accident, but murder. Suspects abound, ranging from the elderly man's nurse to his bitter houseman. Even Larry's brother (and Claire's best friend), Grant Knoll, is seen in a suspicious light. Making matters worse, two of Claire's students were with her when she made the grim discovery, news of which soon infects the entire cast of her play, threatening the artistic integrity of her all-important opening night.

Tied to the crime by chance and circumstance, Claire resolves to match wits with a clever, ruthless killer. With a bit of assistance from an old friend—journalist Mark Manning—she struggles to bring the investigation to a rapid, decisive close.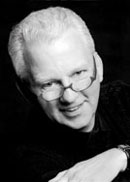 Author's comments
While Desert Winter, like any mystery novel, deals with some heavy goings-on—namely, murder and its detection—the tone of this book remains fairly lighthearted throughout. It's difficult not to keep one's tongue in one's cheek while spinning a tale that features a doddering interior decorator, a spunky and petulant majordomo, and a caregiver who resembles the notorious Nurse Ratched. Claire Gray, our heroine, finds herself knee-deep in an investigation that verges on preposterous but is ultimately plausible and, I hope, highly engaging. I can predict with reasonable confidence that you'll enjoy a bout of obsessive page-turning throughout the last hundred pages of the story.
While the "surface plot," the whodunit, is told with a distinct sense of humor, the threads of the various subplots—dealing with Claire's emotional and romantic developments—are more serious and introspective. Narrated by Claire herself, these are the very passages that help us truly come to know the woman. A theme that developed during drafting, which I had not consciously detailed during the outlining stage, is the story's frequent examination of the dynamics between couples who are of disparate ages ("the May-December thing," as Claire glibly refers to it). At least four such relationships find their way into this novel, and Claire uses each of these to reflect upon her own unlikely relationship with the hunky young Tanner Griffin. I must admit, when I first invented Claire and Tanner's relationship in Desert Autumn, the pairing struck me as more plot-driven than believable, but now that I've gotten more deeply into Claire's head, it seems utterly natural, with no need for extensive justification.
One final note: You may notice among the book's jacket credits that the cover photo was snapped by yours truly. This is the view from the spare bedroom of the condo in Palm Desert where my partner, Leon, and I have made our second home until recently. I looked out upon this courtyard while drafting considerable portions of the text of Desert Winter, and you'll find this view described in detail near the bottom of page 16 of the book. Leon and I have since moved from the condo to a house in nearby Rancho Mirage; in the next installment of this series, Desert Spring, Claire will make an identical move.
Meanwhile, I'd like you to know that Desert Winter is easily, to date, the book I've most enjoyed writing. I hope you'll take equal pleasure in reading it.
Critical acclaim

"Michael Craft is a talented, gifted storyteller who is clearly a grand master of the amateur-sleuth tale . . . Fans of the Mark Manning series, also written by Mr. Craft, will be delighted to know that he plays a key role in this crafty all-in-the-family production."
— Harriet Klausner, BookBrowser Reviews

"The author metes out just enough hints to give the astute reader an idea of who killed a lecherous octogenarian with any number of enemies . . . In the end, Craft shows that proving one's innocence can be as important as finding the guilty."
— Publishers Weekly

"Desert Winter is a sizzling thriller from a writer who proves he's one of the best in his field."
— Erik Swallow, Out and About, Virginia

"Is the cozy dead? Michael Craft proves it is not. In Desert Winter, the second in his Claire Gray series, Craft realistically presents the elements of a Golden Age mystery in a 21st-century context . . . Desert Winter takes you by the hand with a wink and a nod and invites you to suspend your disbelief for just a few hours. Go ahead. The real world will still be there when you get back."
— Kim Colley, Romantic Times

"A great follow-up to Desert Autumn."
— Library Journal