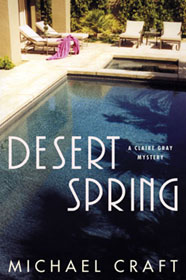 Third in the series of Claire Gray mysteries by Michael Craft

Hardcover published March 2004
St. Martin's Press, New York
254 pages, ISBN 0-312-32080-9

Fifty-four and single, Claire Gray has recently embarked upon a new life. Having lived for some 30 years in New York, where she established herself as one of Broadway's most respected directors, she has agreed to head the theater department of a recently built college near Palm Springs, California.

It is now April, some seven months after her arrival. Settling into a new home, she has just directed her second major production at Desert Arts College, a revival of her own hit play, Traders, starring Tanner Griffin, a 26-year-old heartthrob she has discovered, taught, and mentored.

The powerful film producer Spencer Wallace has seen Tanner act, and he agrees—Tanner is sensational. In fact, Wallace has signed Tanner to appear in his next major movie, Photo Flash. Widely known as Mr. Blockbuster, Wallace has high hopes for this project; he wrote the script himself, based on his own photography hobby.

Claire couldn't be prouder, but the trouble is, she and the much younger Tanner have developed an intimate relationship—they're practically living together—and now that Traders has closed, Tanner will soon be leaving for Hollywood. Claire knows she's losing him, and in a moment of frustration at the play's closing-night party, she blurts to Tanner, "I could kill Spencer Wallace for stealing you from me!" Sure enough, after the party, Wallace is found dead in Claire's swimming pool, and before the night is over, her remarks have been reported to Detective Larry Knoll, who's investigating the suspicious death.

It was murder, all right, and as details of Wallace's demise begin to emerge from the investigation, Claire finds herself increasingly under suspicion. But she's not alone, far from it, and Detective Knoll eventually welcomes her assistance in sorting through the facts and the suspects. It seems everyone had a plausible motive against Wallace—with motives ranging from professional rivalry to base revenge for financial loss and sexual peccadilloes.

At times rollicking and at other times profoundly serious, the story mixes irreverent laughter with Claire's dawning insights into the classic middle-age riddles of lost youth. These emotional extremes serve to bracket the ongoing whodunit, which Claire finally solves in a moment of victory—vowing once again to restrict her future triumphs to "the theatrical variety." Somehow, we're left with the lingering impression that Claire's sleuthing days are far from over.
Author's comments
The novel Desert Spring shares the same plot as my stage play, Photo Flash, which was drafted about a year prior to the book. Because a play is a more compact literary form than a novel, I wanted to address the restrictions and challenges of that medium first, then "open up" the story in its novelized version. While the novel contains much familiar dialogue from the play, it brings considerably more depth, detail, and texture to the story, primarily through the introspection of Claire Gray, who serves as narrator.
Both the novel and the play have a certain self-consciousness, as they deal with a play, a movie, and the writing of their respective scripts. What's more, "Photo Flash" is not only the title of the play and the title of part one of the novel; it is also the title of the film within the story. And we quickly learn that the screenplay of the film has spelled out a recipe for murder concerning tainted photographic chemicals. Photography is embedded in the thematic core of the story and emerges, as if through the layers of an onion, to the surface level of the story's language.
While the whodunit is told with a good deal of humor, it is underlaid by a romantic subplot dealing with Claire's evolving relationship with the much younger actor, Tanner Griffin. He is on the verge of stardom, which was Claire's goal, but ironically, their success spells the end of their offbeat romance. This bittersweet reality is an ambiguous emotional thread running throughout the entire story, which stands in contrast to the humor and serves to frame the central murder plot in a way that I found curiously satisfying to write.
I hope you will take similar pleasure in reading Desert Spring.
Critical acclaim

"In Michael Craft's well-crafted Desert Spring . . . the witty repartee will keep readers turning the pages to the surprising conclusion."
— Publishers Weekly

"Michael Craft's crafty Desert Spring is all theater chitchat and gay ribald repartee, involving Claire Gray, a 54-year-old theater director from Manhattan who has come to the Desert Arts College in Palm Springs to teach . . . . Craft's witty, fey dialogue keeps everyone theatrically agog and atwitter, ripping away people's disguises and exposing them at their salacious, scandalous and sexually bent worst."
— Sam Coale, Providence Journal-Bulletin

"Michael Craft has another winning series to his credit. Claire Gray proves you're never too old for romance or a career change. At rare and unexpected times, she has moments of vulnerability that make the reader like her all the more. Desert Spring is a sophisticated and entertaining novel."
— Harriet Klausner, BookBrowser Reviews

"A solid series addition."
— Library Journal