Seventh in the series of
Mark Manning mysteries
by Michael Craft

Hardcover published August 2004
St. Martin's Press, New York
254 pages, ISBN 0-312-30530-3

Sometimes, things get out of hand. In the seventh and final Mark Manning mystery, things really get out of hand when Glee Savage, the demure society editor at Mark's small-town daily newspaper, hauls off and ferociously bitch-slaps Gillian Reece, principal figure in an important local business merger. The ill will quickly escalates till Gillian takes a fateful tumble. The merger is off, and once again, Mark's got a deadly mess on his hands.

It's another in the string of perplexing deaths that have plagued Mark's otherwise contented life since moving from Chicago to Dumont, Wisconsin. For several years, he has been serving as publisher of the Dumont Daily Register, which he owns. What's more, he sits on the boards of the county's two largest companies, Quatro Press and Ashton Mills, so it's only natural that he's been involved with the proposed merger. His lover, architect Neil Waite, has even been hired to design a spectacular new home for Ashton's prickly and aggressive CEO, Gillian Reece.

With Gillian's untimely death, however, and the secrets bared by it, everything is jeopardized—the merger, the design project, the future of Mark's business, his ethical principles—and far, far more. The comfortable, secure life he has built and cherished could unravel completely, and quickly. Then, when he least expects it, Mark discovers a horrifying truth, and the aftermath of Gillian's death confronts him with not only the most puzzling, but the deepest and most urgent questions of his investigative career.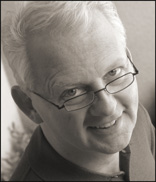 Author's comments
My seventh Mark Manning mystery, Bitch Slap, marks the end of a series that has seen our hero grapple not only with unexplained death, but with a sequence of life-altering events—coming out as a gay man, committing to his partner, flirting with infidelity, "inheriting" a child, then adjusting again to the empty nest. For this last installment, I wanted to up the stakes and challenge the security Manning has felt in his core beliefs and his self-image, which can sometimes be smug. The stage is set for this struggle in the book's first line of dialogue. By the end of the novel, Manning learns the most important lesson of his life, and in doing so, he becomes more human—if a bit less heroic.
People often ask where I get my ideas and how I build my stories. In the case of Bitch Slap, the title came first. Well, sort of. I was already working with the kernel of the story idea (the identity of the killer), when the phrase "bitch slap" caught my attention. I knew it would make a great title—it sounds similar to the other titles in the series, and it's a real grabber, being so graphic, hip, and "over the top." Yes, I then fleshed out the story to fit the title, inventing the appropriate victim and the means of killing her. This has happened only once before in my writing; when I brainstormed Boy Toy (published in 2001), that title also came first.
Seasoned mystery readers will discover that Bitch Slap is a most unconventional whodunit, with a plot that takes a neck-snapping turn at an unexpected moment. So fasten your seat belts, and enjoy the ride.

Critical acclaim
"The loving relationship between the hero and his partner adds an extra layer of depth to this creative whodunit. Michael Craft deserves a Lambda Award for this book and the whole series."
— Harriet Klausner, BookBrowser Reviews

"Watch out! The obvious fun Craft is having telling this story will leave readers unprepared for the unexpectedly sudden revelation of the murderer's identity. As they say in show business, the first rule is to entertain your audience and the second rule is to leave them wanting more. Bitch Slap does both."
— Ken Furtado, Echo Magazine, Phoenix
"Not content to rest on his laurels, Craft ends the series with his best-written book to date. It features a doozy of a surprise that blindsided me completely!"
— Owen Keehnen, GLBTQ.com, Chicago

"Big fun. Lots of laughs. One very dead, very rich lady. Herewith, a 21st Century cozy."
— Shirley Willcock, Geraldine Galentree's Newsletter
"I didn't see the final twist coming and for one awful moment thought it was going to be a cop-out. But Craft doesn't short-change the reader, and this lends the ending some real tension. As soon as I'd got to the end, I rushed out and bought the first in the series."
— Sharon Wheeler, Reviewing the Evidence
"Craft's seventh Mark Manning mystery features his usual entertaining story lines and characters; series fans and readers of gay mysteries will enjoy."
— Library Journal, New York
"Relationships take interesting turns in Bitch Slap, a well-written mystery with a delightful sense of humor and terrific characters. . . An excellent small-town amateur-sleuth tale, a very intriguing read."
— Sally Powers, I Love a Mystery Newsletter