While dressing for dinner on New Year's Eve, the last thing Marson Miles expects is to fall in love that night—with his wife's nephew. But when Brody Norris arrives from California to join his uncle's architectural firm, Marson finds his life turned upside down.
And the quirky little town of Dumont, Wisconsin, will never be quite the same.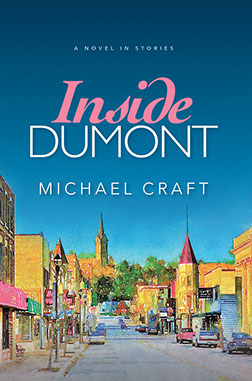 264 pages
Questover Press
© 2016
Michael Craft
Inside Dumont is a reflective exploration of Marson's later-life journey, set against a loving portrait of the place he and Brody will call home. This impressionistic chronicle of their growing relationship—and the orbit of events leading up to it—is told from a variety of viewpoints within a fluid timeline.
The novel's dozen episodic narratives range from tender to suspenseful, from romantic to mysterious, all of them brightened with a good measure of humor.
"Story by story, Michael Craft masterfully reveals the intricate threads of a historic town's social life—and unfolds the beginnings of a long-desired love."
— Patricia Nell Warren, author of The Front Runner
"An elegantly written collection of interrelated stories. Wonderfully drawn characters, snappy dialogue, and an intimate feel for the town and its people make Inside Dumont a pleasure to read."
— Michael Nava, author of The City of Palaces
and the Henry Rios novels
"A delightful novel . . . Dumont is rife with busybodies, blatant racists, scandalous relationships, and even its fair share of mysterious crimes. The book is laugh-out-loud funny . . . and the author deftly incorporates weightier topics like sexuality, aging, and political corruption . . . Ultimately a rollicking and engaging book about a tiny town, with a successful balance of intrigue, humor, and poignancy."
— Kirkus Reviews
"As Craft demonstrated in previous novels … he is a talented, mirthful storyteller … who creates an intriguing web of likable, diverse characters … A fun, smartly executed read."
— The Desert Sun, Palm Springs