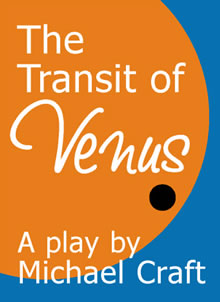 A play by
Michael Craft

Cast requirements:
4 men, 3 women
Scenic requirements:
1 exterior (view plan)
Estimated running time:
90 minutes (no intermission)


The Transit of Venus is a lighthearted drama of evolving relationships among seven disparate characters who have gathered at a Wisconsin lake house to observe a rare astronomical event. The general style and structure of the play may be reminiscent of some of Lanford Wilson's work, while its witty, bantering dialogue may bring A.R. Gurney to mind, though written from a Midwestern perspective. Add to this a dash of magic realism, and the stage is set for soul-deep revelations.

The action begins at dawn on Tuesday, June 8, 2004, as the guests of Joan Harper emerge from her house on the western shore of Lake Michigan, awaiting sunrise, when they will get their first glimpse of a transit of Venus, the first since 1882. During the transit, a sort of mini-eclipse, Venus is seen in silhouette, passing across the face of the sun.

Joan, still a free spirit at 60, is the widow of Gordon Harper, a renowned astrophysicist who died two years earlier, and she has not yet fully adjusted to the circumstances of her loss. We meet her daughter, a lawyer, and her son-in-law, an astronomy professor who was mentored by Gordon. The three are caught in a tangle of strained relationships, made worse by a career decision facing the daughter, which could possibly spell the end of her marriage.

And the other houseguests don't get along at all. The superficial yuppies, man and wife, don't know what to make of the gay architecture professor, who in turn is riddled with insecurity over his budding romance with a 21-year-old student of classic literature. The young man, however, proves to be the wisest of them all, and in the end, he leads the others through transformations of self-discovery.

The play contains roles for 4 men and 3 women, ranging in age from 21 to 60. The setting consists of a single exterior, the back deck of the lake house. Running time is approximately 90 minutes, written in "real time" with no intermission.

The script was first drafted in the summer of 2004 and has since been polished by numerous revisions, most recently incorporating feedback from a workshop reading at the University of Wisconsin–Parkside, in Kenosha.



Rights and royalties

The Transit of Venus is held in copyright by the author, Michael Craft. Production of The Transit of Venus, whether professional or amateur, is subject to a royalty, which must be paid whether the play is presented for charity or gain and whether or not admission is charged. For information regarding production rights and royalties, or to obtain a sample copy of the script, simply e-mail the author.

Queries regarding all other rights, including film or television development and translation into foreign languages, should be addressed to the author's agent, Mitchell Waters, at Curtis Brown Ltd., 10 Astor Place, New York NY 10003.