Lakeside Players, Inc.
the community theater of Kenosha, Wisconsin
proudly presents the premiere production of

a comic mystery in two acts by
Michael Craft
directed by the author


September 19 – October 4, 2003
Fridays and Saturdays at 8 pm, Sundays at 2 pm
Rhode Opera House, 514 56th Street, Kenosha, Wisconsin
Opening-night gala, September 19
celebrating Lakeside Players' 30th season
For ticket information, phone 262-657-PLAY



Searchlights! Fanfare! Curtain going up!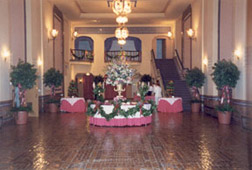 Lobby of the historic Rhode Opera House, home of Lakeside Players.



It's a double celebration on September 19. It's the world premiere of Kenosha novelist Michael Craft's first stage play, Photo Flash. And it's opening night of Lakeside Players' landmark 30th season.

Michael Craft is the author of nine published novels, most of them murder mysteries that have gained an enthusiastic, national following. Publishers Weekly called his heroine Claire Gray "intuitive and imaginative . . . a refreshing and complex sleuth." Another critic called Craft himself "a talented, gifted storyteller who is clearly a grand master of the amateur-sleuth tale."

Craft has recently turned his hand to a new challenge, penning his first stage play, and the result is a classic whodunit, Photo Flash, featuring none other than Claire Gray as its central character. Craft had several offers to premiere his latest work, but the nod went to Kenosha's Lakeside Players, where the author himself will direct the opening production of the troupe's 30th season of community theater.

Kenosha audiences will remember Craft for starring roles he played in Lakeside productions of Amadeus, Blithe Spirit, and It Runs in the Family. He made his directing debut in 1996 with the much acclaimed production of A.R. Gurney's Later Life. "But I have long had an itch," says the author, "to explore another facet of theater, the seminal aspect of creating a play out of nothing more than thin air, a bit of research, and words." Already experienced in the mystery genre, he decided to turn his plotting skills from novels to his first play.

Photo Flash is the story of Claire Gray, a renowned theater director transplanted from Broadway to the faculty of an arts college near Palm Springs, California. On the closing night of one of her plays, she hosts a cast party at her home, only to find her guest of honor, a powerful movie producer, dead in her swimming pool. Making matters worse, an exaggerated, offhand comment she made at the party, overheard by the caterer, casts her in a suspicious light. Incriminating circumstances continue to mount, and before long, Claire finds herself assisting the local sheriff's detective in unraveling a bizarre, deadly plot that points to poisoned photographic chemicals.

The general style of the play, as noted by numerous readers of the drafted script, combines the lively, sophisticated wit of Noel Coward with the deft, logical plotting of Agatha Christie.

The author has used the play as the basis for his tenth novel, titled Desert Spring, which will be published in hardcover by St. Martin's Press, New York, in early 2004. Lakeside audiences will be the very first to match wits with Claire Gray as she struggles to untangle the pieces of this entertaining murder puzzle.

For ticket information regarding Photo Flash and its gala opening night, phone Lakeside Players at 262-657-PLAY.

Press reviews

"It's a great play, a wonderful work. I was on the edge of my seat at the end."
— Gregory Berg, WGTD-FM, Wisconsin Public Radio

"A sophisticated, intriguing mystery."
— Happenings Magazine

"Audience members were raving about the new play Photo Flash when we went to opening night . . . The mystery mixes doses of Noel Coward wit and Agatha Christie sleuthing."
— Kenosha News, No. 1 "Best Bet in entertainment this week"


---

Click here for details of the premiere's production schedule.

Click here for details of the cast and crew.

Click here for the printed program.

Click here to view photos from the premiere of Photo Flash.

Click here for an overview of the Photo Flash script.

Click here to read a scene from the Photo Flash script.

Click here to return to main page.